Welcome to . . . Jeffrey R. Jacobs, CPA . . . Thanks for visiting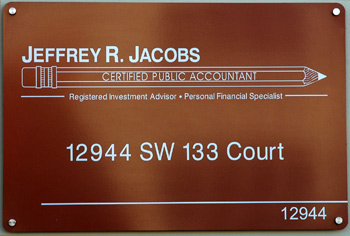 If you locate the sign to the left, then you have found the individual who takes care of life's opportunities prior to them becoming problems. This lets you enjoy more of the finer things in life.
Jeff invites you to click around his website and find out what makes him no ordinary CPA.
Be sure to add this page to your favorites list and visit it often since it is continually updated.
Please don't hesitate to contact Jeff to discuss how he can help you turn your opportunities into realities:
12944 SW 133 Court • Miami, FL 33186-5806 • Phone: 305-255-0011 • Fax: 305-255-0811 • Email: jeff@jrjacobs.com

Your initial consultation is free.
Member: American Institute of CPAs and Florida Institute of CPAs
CPA regulated by the State of Florida.
(In order to access several of the items on this website, you need to allow 'POP-UPS from this website'. Please disable your Pop-Up blocker.)